TOGETHER WE CAN MAKE A DIFFERENCE
We want to do our part to support the brave healthcare workers who are on the front lines. That's why 10% of all sales from The Mister Brewer will be donated to the William Osler Health System Foundation. This includes subscriptions, so sign up now and help us give back!
GivingTuesday 2023
When I went to the emergency department, I had no idea what was going on with me and I was scared, but I knew I was in good hands.  The cardiology team conducted tests to diagnose the problem, but more than that, they checked on my well-being.  I felt not just like a patient, but like I had a supportive community around me.  
One Year of Achievements
The results for CommunityVotes Brampton 2023 are in, and it's truly incredible that we claim not one but two awards in just one year! I'm so excited to share that we've earned the Silver Award in the Cafes & Coffee Shop category and the prestigious Gold Award in the Specialty Coffee category. Thank you all for all the amazing support! This will be the coffee that will continue helping our health care heroes at William Osler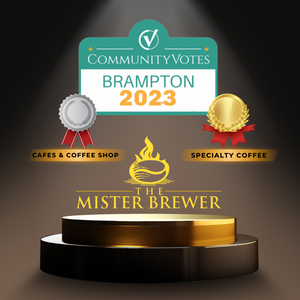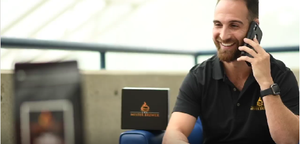 The Story
Anthony Lombardo(Systems Analyst '13) believes that coffee ☕️ brings family and friends together. He's worked within the I.T. space in healthcare for more than a decade, so when he started his own coffee company, @TheMisterBrewer, in 2020 he wanted a way to give back to our healthcare heroes and does so by donating 10% of all sales to William Osler Health System.

Watch to learn more 📺
After 18 weeks, we did this!
It's hard to believe that 18 weeks have gone by, and now I don't know how I will spend my Saturdays now😥. I'll sincerely miss the early 5am wake-up calls to set up my booth and the amazing chats and laughs with all of you over an amazing cup of coffee. ☕🌞

Thanks to your incredible support, we raised a MASSIVE amount for the William Osler Foundation!🙌

Thank you all again for all the support and for everyone that came by to visit me.

We must also recognize the hardworking individuals who put in tremendous effort to make the Bramptons Farmers Market possible. A big thank you to the City of Brampton and Experience Brampton for welcoming me to the Brampton Farmers Market 2023.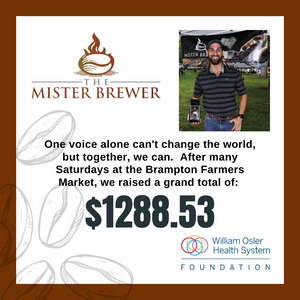 our partners
Meet our supporting partners
Our story
The Mister Brewer was born from a passion for a tradition that brings loved ones together and a commitment to delivering the highest quality and freshest roasted beans possible.
Learn more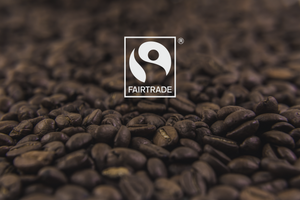 Fair Trade & Roasted in Canada
All our beans are Certified Fair Trade and roasted-to-order in Ontario Canada.

Love my Double Agent French Roast coffee. The Medium Dark roast flavour is delicious. Highly recommend the coffee from The Mister Brewer
Connie Shimko

I've tried all three, and I've got to say that the double agent is my favorite. It's a rich dark roast, with a very smooth test and a beautiful aroma. Will definitely be getting more 😊
...
Forgot to mention that I love the packaging. Felt personalized and really appreciated the roast date being printed on the packaging.
Chad D
The package was as exceptional as the box. The coffee was impressive, very aromatic with nutty caramel under tones. We really enjoyed it.
F.R.

Thank you Mister Brewer for your speedy, friendly, and professional service. I enjoyed The Commander & Double Agent. Highly recommended!
Jessica Nicole Tomasone
So delicious!! Loved how fresh it tastes, zero bitterness and no after taste! Made for a very smooth espresso!
Sandy

Great tasting coffee! Would strongly recommend.
Dora Karabinis

Just tried the commander grind coffee and it was amazing! Purchasing the coffee from The Mister Brewer was a very simple and easy process. Highly recommend it!
Jasmine S

Coffee with incredible flavour! We got to try The Commander ground beans and the coffee turned out excellent. Great value for the price, and we would highly recommend this product. Excited for more flavour blends in the future!
Matthew Ransom

I had just run low on my usual Starbucks coffee when my order from The Mister Brewer arrived. The beans have a fresh and pleasant smell, so I really looked forward to my first cup. I wasn't disappointed at all. It has a smooth taste and isn't too strong. Which is perfect!!! I'd definitely order this again, I even liked the professional packaging!!!
Clay A

Purchased the commander blend and it was amazing! It has a great taste and the ordering process was fast and simple. Can't wait to try the other blends.
Luke G

This coffee taste so good! The Royale City Roast has a rich and smooth taste. I have had it three days in row and the flavour is simply addictive. Will definitely order more! These guys are doing a wonderful job!
Tosin K

Having mister brewer first time, the Vienna roast is very very good for lattes and the espresso shot was very smooth. The packaging is very nice and Anthony personally delivered the package earlier due to me not knowing delivery times; he didn't have to do that but he still went above and beyond and I really do appreciate that. Will be ordering again.
Aakashdeep Dhillon